Donald Trump is going to ban all transgender people from joining the military. Here are the relevant tweets: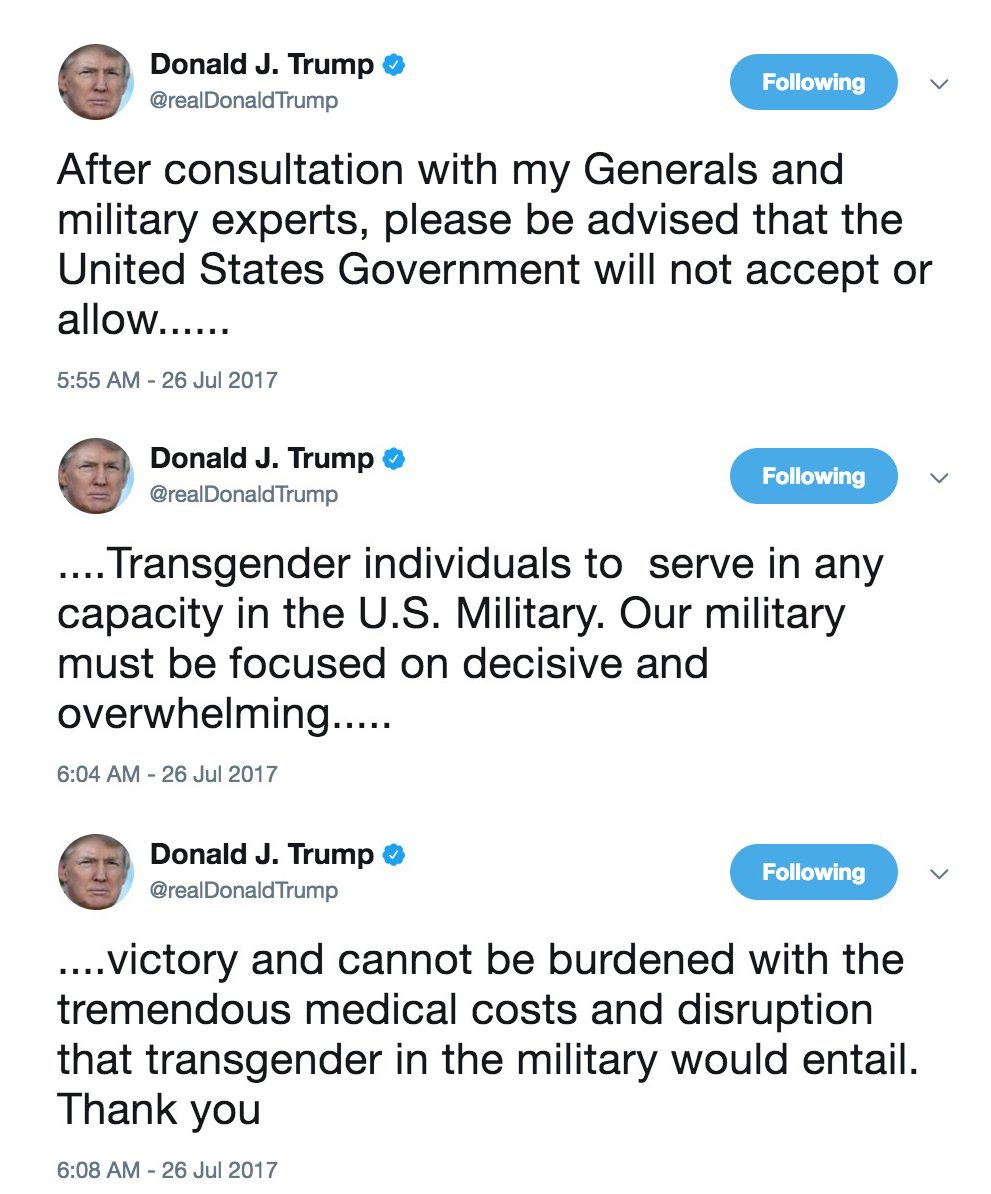 I want to zero in on the monetary argument. Trump wrote that transgender people burden the US budget with "tremendous costs." Is this statement true? Bloomberg looked into the matter and found that transgender people make a negligible dent in the defense budget:
A 2014 study estimated that 15,500 trans people were currently serving in the U.S. military. The Williams Institute, a think tank at UCLA School of Law that researches gender identity, came to that figure using a 2011 survey of 6,546 transgender Americans. Around 20 percent of that survey's respondents said they had served in the armed forces. There are currently 1.3 million active-duty personnel in the U.S. military and an additional 800,000 in reserves.
Using various extrapolations based on population estimates and rates of service for men and women, the Williams researchers concluded that 8,800 people were in active duty and another 6,700 were in the National Guard and U.S. Army Reserve. Trans people, the Williams report suggested, might even join the military at a higher rate than other groups.
"It's a consistent finding in studies that have been done across a variety of different data sources that trans people serve in the military at higher rates than the general population," said Jody L. Herman, a co-author of the Williams study. She cited academic interviews conducted with transgender servicemembers that underscored the appeal of the military's perceived hypermasculine environment.
But, as Herman added, "trans people want to serve in the military for the same reasons as everyone else wants to serve in the military."
Researchers from RAND used much lower numbers to estimate transgender-related health-care costs, putting the total ranks of active transgender service members between 1,300 and 6,600 and concluding that only about 130 might seek gender-related surgeries. But even if the number of transgender service members is closer to the Williams Institute's estimate, the cost for their medical care would be a negligible share of the military's total health budget.
Trans people represent a small number of military members and thus a small portion of healthcare costs. If budgetary concerns aren't the real motivation for the ban what is?
There is some speculation that Trump issued this tweet to divert attention from the raid on Paul Manafort's house (see previous post for details). This theory is supported by the fact that we have no details or timeline for the execution of the ban.
This post is not meant to argue the merits of allowing transgender people into the military. This is meant to expose deception in Trump's arguments against allowing transgender people into the military.